Squad swimming is offered at both our Blackburn Learn to Swim Centre and Aqualink Box Hill dependent on the squad you are in.
Squad swimming is an important component of your child's swimming journey, as it not only provides them with a fun introduction to swim training but also enables them to build stamina and technique. We feel the stronger your child is as a swimmer, the greater the enjoyment they will get out of water, and the safer they will be in a pool, the ocean, or any aquatic environment.
Squad training is a great way to make friends, whilst also greatly benefiting those participating in school swimming carnivals. Additionally, it is very effective in increasing fitness levels, with swimmers often reaping the benefits of other sports they participate in. Did you know Surrey Park was born from a group of footballers who realised the benefits that ensued from swim training?
After completing Level 8/Development Squad, your child will progress into Junior Squad. Junior Squad swimmers also join our Club. As a member of the Club they can participate in team building camps and other social activities, they can also train to compete against other clubs at State and National Championships. Progression beyond Junior squad is influenced by your child's commitment levels, ability and goals for swimming.
Squad sessions also cater to Multi-class swimmers (with the option to swim competitively) and Fitness Squad, which is tailored to those who wish to continue swimming for fitness and enjoyment.
A great introduction to the sport of swimming;

Great for fitness, and is also highly complementary to other sports;

Squad swimming gives your child the best chance of being safe around water as stamina and technique are further developed;

Multi-Class Squads.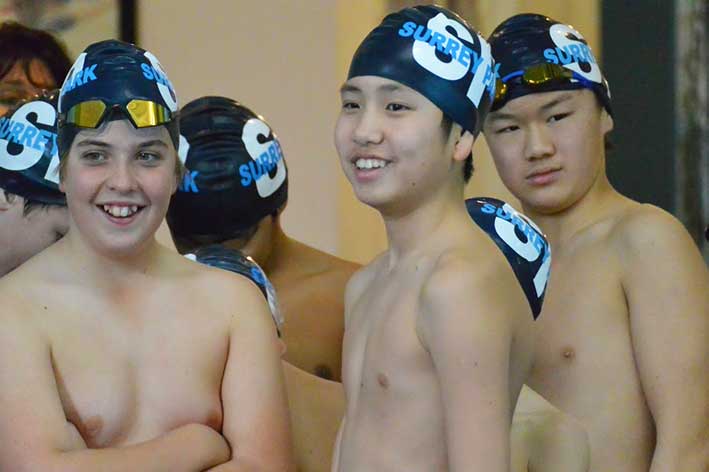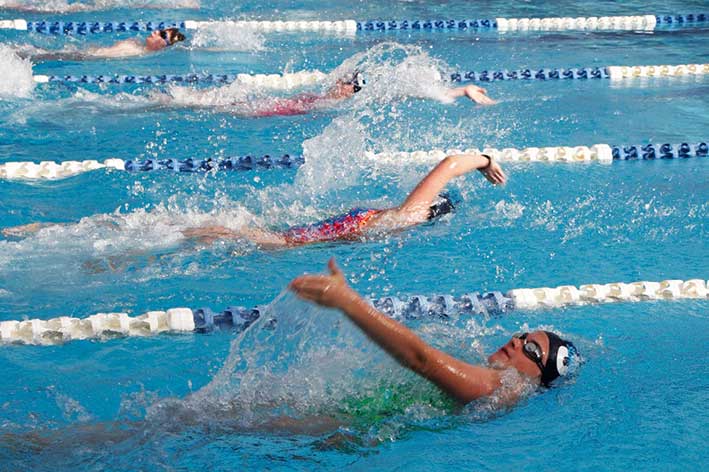 After completing school aged level 7 students will progress into level 8/Development Squad to achieve a well rounded swimming education;
This squad builds on distance and strength in freestyle, backstroke, butterfly and breaststroke while refining racing skills and survival strokes;
This is for the beginner swimmer who have learnt how to swim but need to develop the ability to apply those skills, whether for competitive club swimming or for recreational pursuits such as swimming in the surf or a fast flowing river.
After completion of this level, a swimmer can join our Club program as a Junior swimmer where they can join a squad and participate in Club camps, meets and other activities.
Progression in Club squad swimming is based on swimmers goals, level of commitment and ability;
Squads commence at the Junior level and progress through to Open High Performance where swimmers are competing for spots on the Australian Swimming Team.
All Club squad members can participate in Club events, meets and other social activities. Being a member also means that as they progress they have the opportunity to train for and attend state and national championships
Click Here for our Club swimming program
Aims to improve technique and general fitness;
Its a great option for anyone wanting to do cross training or continue swimming training with busy schedules;
Swimmers should be comfortable swimming for 60 minute sessions;
There are no minimum training requirements for this squad.  Maximum of 3 sessions per week.
For people who have a physical or intellectual disability;
These students are unable to participate in mainstream squads;
All sessions held in the indoor 25 metre pool at Aqualink Box Hill.
Development Squad/Level 8 – Weeknights;

Fitness Squad – Monday to Thursday;

Each session runs for 60 mins;

Learn To Swim Squads run according to school terms.
What to bring to your lesson?
Swimming caps, goggles and water bottles are required at each training session. As of Term 4 2021 all swimmers in Development Squad/Level 8 and Fitness Squad will be required to provide their own fins.
Students will receive 15% discount on the second lesson enrolled in per week during the term;
The 3rd child and any thereafter enrolled from one family will receive 15% discount on term lesson fees;
Students will receive 15% discount on their second or third week enrolled in during the holiday intensive program.
Discounts cannot be combined
Surrey Park Swimming does not offer refunds.
If your child is unwell for two or more consecutive lessons, please provide a signed and dated medical certificate to Surrey Park Swimming reception to be considered for a credit. Credits will only be considered if you have notified the swim school of your student's absence prior to their lesson.
Credits are provided at the absolute discretion of management and are not guaranteed, any credits issued will be valid for 12 months, are not transferrable, and cannot be refunded.